Park City/Deer Valley Mountain Biking

Experience Deer Valley mountain biking...Utah is one of the best places in the U.S. for mountain biking, at least in our opinion! With such a wide variety of terrain and trails that meet all ability levels, mountain biking in Deer Valley, and throughout the Park City area is rapidly becoming a popular summer activity, bringing guests from all over the country. Come and stay in the well appointed & peaceful area of Park City, enjoy unbeatable views, high end accommodations, plus easy access to the Deer Vally downhill mountain biking trails, and all of the surrounding mountain biking terrain.
Explore Our Deer Valley Mountain Biking Trails & Plan an Epic Stay!
Mountain Biking Deer Valley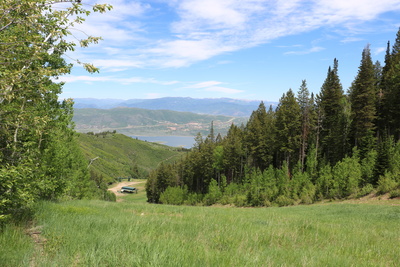 To access most of the nearly 70 miles of Deer Valley mountain bike trails (spread out over six mountains), skills park, and up to 3,000 vertical feet of elevation change, you will need a Summer lift ticket. This gives you access to the mountain and its trails through the Silver Lake Express, Sterling Express, and Homestake Express lifts. It also includes four flow trails designed by Gravity Logic along with several trails that connect with Park City's vast 400 Mile network of trails. You can purchase a lift ticket at the Ticket Office, Snow Park Lodge, Silver Lake Rental Shop, or online.
Park City Mountain & Canyons Village Trails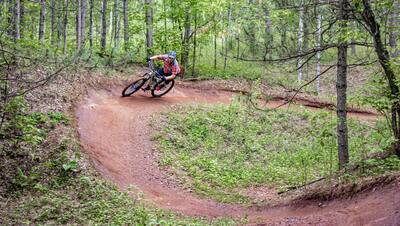 The Park City Mountain Resort and Canyons Village are located next door to Deer Valley. They have an abundant selection of different trails ranging in difficulty from intermediate and above and weave their way through Aspen groves and open areas. If you are looking to use the lifts and have your bike hauled to the start of the mid-mountain trails, then you will need to purchase a lift ticket as well. This can be done at the Park City Mountain Village base area ticket office or online.
Demo New Bike Equipment!
Whether you are a pro or new to the mountain biking scene, our local Deer Valley bike shops have you covered with some great bikes to get you out and about enjoying all the fantastic trails. Don't get into the frustration and hassle of hauling your rig. Instead, rent one here and save all your energy for the fun things you will do. Check out Deer Valley Bike Rentals and Park City Canyons Mountain Rentals.
Mountain Biking around Deer Valley & Park City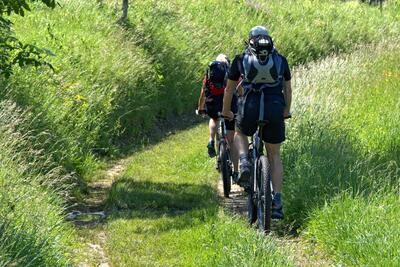 There are over 400 miles of singletrack mountain biking trails that connect all around the Deer Valley and Park City area that don't require a lift ticket to enjoy. These trails range from 6,500 feet to 10,000 feet in elevation, and in a single ride, a user can witness everything from high deserts covered with sagebrush to the high-altitude alpine environment. These trails have been awarded the first-ever status of Gold Level Ride Center by the International Mountain Biking Association or IMBA. Since there are so many beautiful rides, we have listed some of our favorite Deer Valley & Park City Mountain Bike trails based on their difficulty below.
Park City & Deer Valley Mountain Biking Accommodations: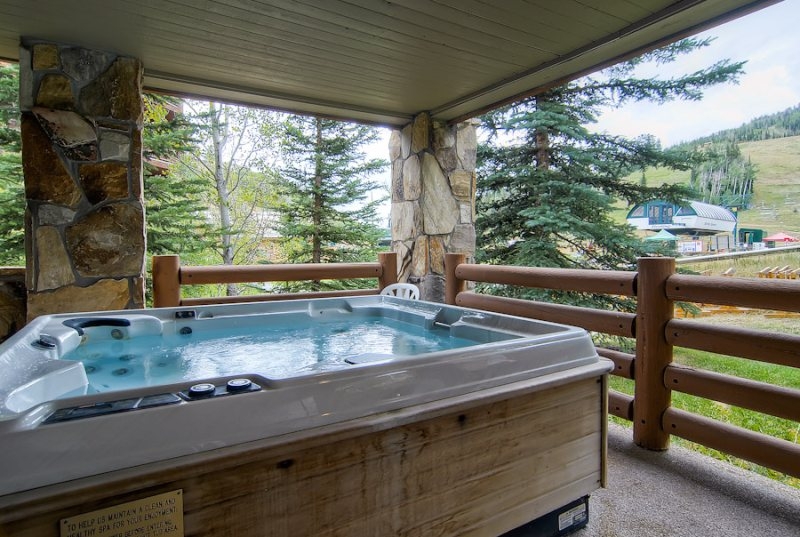 Silver Lake Accommodations offers beautiful, luxury, mountainside lodging at the lowest price point in Deer Valley. With easy access to the summer-operated lifts, and our exceptional service we are the best choice for guests visiting Deer Valley or Park City to mountain bike. Contact us any time, and let our great local knowledge help you map out your adventure or vacation plans.
Find other fantastic Deer Valley & Park City Activities by exploring our Deer Valley and Park City Local Area Guides!